As you may have noticed, most of the photos and videos being shared on Instagram are highly edited and carefully designed.
Since mobile editing apps are not professional editors and give us a limited variety of tools, it is needed to edit videos by professional and advanced editors on PC. So do you know how to upload video to Instagram from PC?
However, there is no direct way to share videos on the official desktop Instagram app. In this article, we will discuss how to upload video to Instagram from PC.
How Long Can Instagram Videos Be?
If you've recorded a fantastic video that you want to share on Instagram, you should be aware of different types of videos and their length to see which suits you best. 
An Instagram video in a regular post on your feed can have a minimum length of 3-seconds and a maximum length of 1 minute. Also, you can split your Instagram video and create a carousel post with up to 10 slides, 60 seconds each.
Another type of Instagram video you can share to your Instagram profile is a Story, which can be 15 seconds long. Stories are very popular given their easy access on top of Instagram's feed and can be saved to highlights so as not to be removed after 24 hours. 
Turning next to IGTV videos, regular users and verified users (and users with over 10K followers) can upload videos up to 10 minutes and 60 minutes long, respectively. 
On top of that, you can share an Instagram live video to your IGTV once your live is ended.
Finally, you have 15-second multi-clip videos with audio, effects, and new creative tools called Reels. 
Instagram Video Resolution and Quality
Instagram began as a picture app but is now grown into a far more sophisticated platform that incorporates video content in the form of Instagram Stories, Instagram posts, Instagram advertising, and long-form video content on IGTV.
Individuals and companies are fast learning the ins and outs of video and video optimization on Instagram to improve their content and engagement as video popularity on the site grows.
Here is a guide to the best Instagram video sizes and dimensions to upload video to Instagram:
Instagram feed videos

– 1080*1350P

Instagram carousel posts

– 1080*1350P

Instagram Stories

– 1080*1920P

IGTV videos

– 1080*1920P

Instagram live

– 1080*1920P

Instagram Reels

– 1080*1920P
How to upload video to Instagram from pc?
Although Instagram desktop doesn't allow you to directly post almost anything on your profile, there are 3 different approaches to upload video to Instagram from PC – using Facebook Creator Studio, a reliable Instagram management tool, and an App player that works for cross-platform products. 
While each of them has its own upsides, we will discuss how they would work best for every type of video, so you will get to know how to upload video to Instagram from PC.    
To upload video to Instagram, you can use Bluestacks to enable an Android application to run on your PC – Windows or Mac. 
However, using Creator Studio or an Instagram planner also allows you to schedule your video for a later time, along with drafting and editing your post before it gets published. 
Video Stories on Instagram
Creator Studio didn't use to offer a feature to publish Instagram Stories, but now you can use it to schedule and publish video Stories. 
Clearly, other Instagram schedulers are also able to craft and post videos to Instagram Stories. 
IGTV videos are considered to have a significant role in optimizing your profile thanks to their longer length and capability to provide more use and creativity. 
Hence, there are no alternatives to ignore such an important feature, and they all allow you to create IGTV videos and post them to your profile. 
Top apps to upload videos on Instagram from PC
Instagram tools are not all about scheduling and planning content. They boast a whole host of features to help you enhance your performance from creating high-quality content with a wide range of varieties to generating reposts, hashtags, and other features to improve every aspect of your professional profile so you can remain creative and consistent in visual aesthetics and content creation. 
Therefore, we will discuss the top 5 tools upload video to Instagram from PC with other features that distinguish them from Creator Studio.     
1. AiSchedul
You would be looking for an app to share videos on Instagram and reap the advantages of some extra features compared to Creator Studio; then AiSchedul is probably the first alternative you are looking for. It is a strong social media scheduler that assists you in reaching more devoted and pleased customers by providing superior insights into your strategy and business plan.
Not only to upload videos to Instagram from PC but also, you can post YouTube videos. This is an app to share YouTube videos on Instagram without download needed. Moreover, AiSchedul has lots of features that you can use them too. 
Schedule your content to be posted automatically. Your content could be scheduled to be published on your feed, Story, or IGTV. Furthermore, it might be generated in any format you like, such as a photo, a video, or a carousel post.

Schedule your content to be deleted automatically. You can also choose to

mass delete your Instagram posts

on Instagram.

Using its

hashtag analytic too

l

and hashtag generator tool, you may generate the appropriate hashtags for your content. 

Share numerous links in your Instagram bio.

Make a contest and automatically select the winners to be rewarded.

Repost posts, IGTVs, and Stories.

Get advanced hashtag suggestions for your content.

Download posts from other people's feeds, IGTV, Stories, and highlights, or repost your favorite material directly to your account.
Keep in mind that you may always schedule reposts. Monitoring accounts and reposting their content are two of the options that are available in perpetuity for free.
Here is a step-by-step guide to uploading videos to Instagram using AiSchedul.
Click on "add Instagram account" to connect its dashboard to your Instagram account. Note that you can add more than one profile. 

After choosing your profile, click on "Manage account".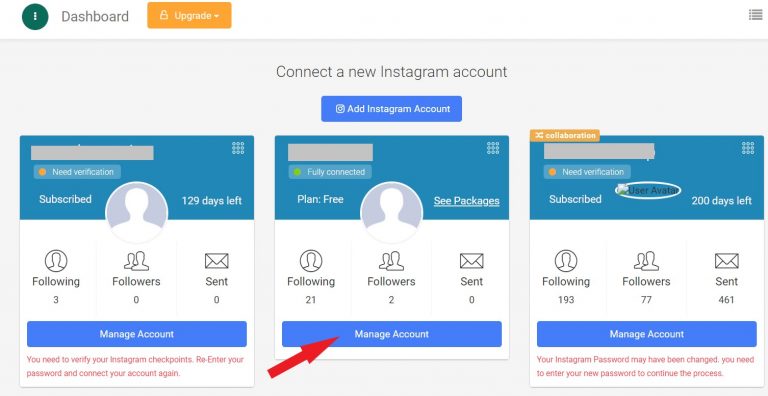 Then, go to the scheduler tab, select "schedule" and click on "feed".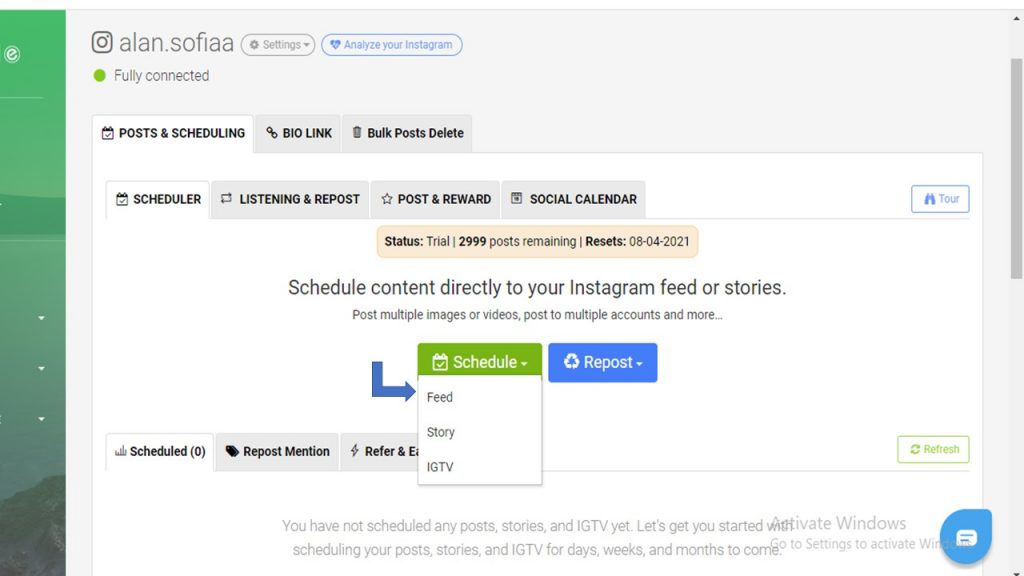 Now, you can drag and drop or select the photo or video that you want to share. Moreover, you could make a

carousel post

or add a

YouTube

link to repost without download needed and then write your caption.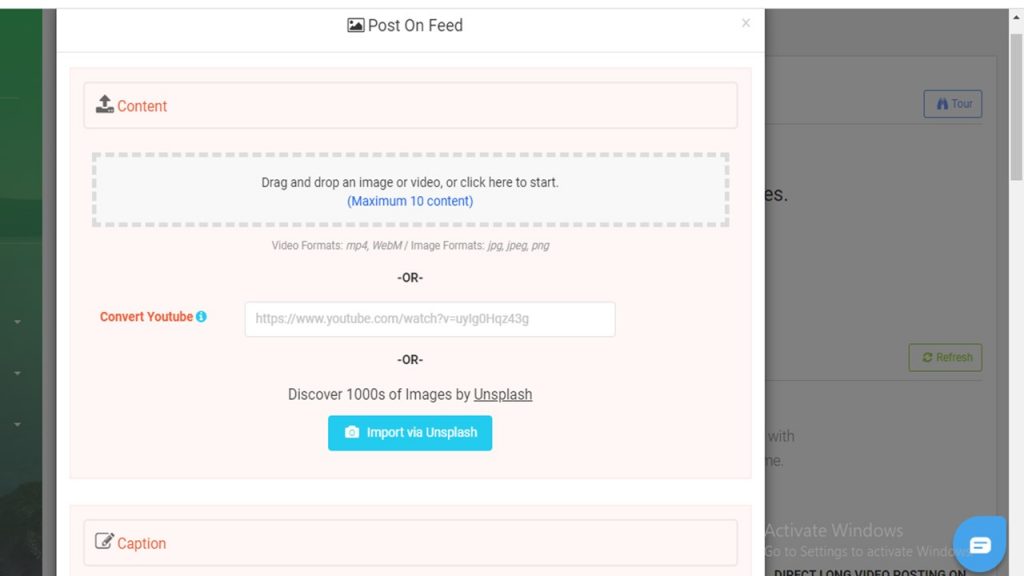 Moving on, by using the hashtag generator tool you are able to find top hashtags for your post.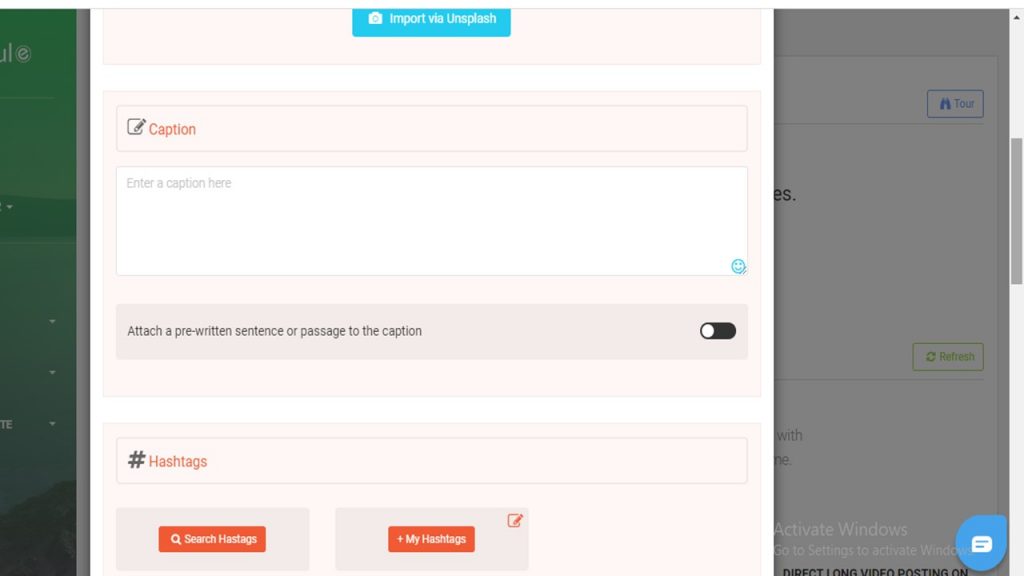 Also, you can add a location.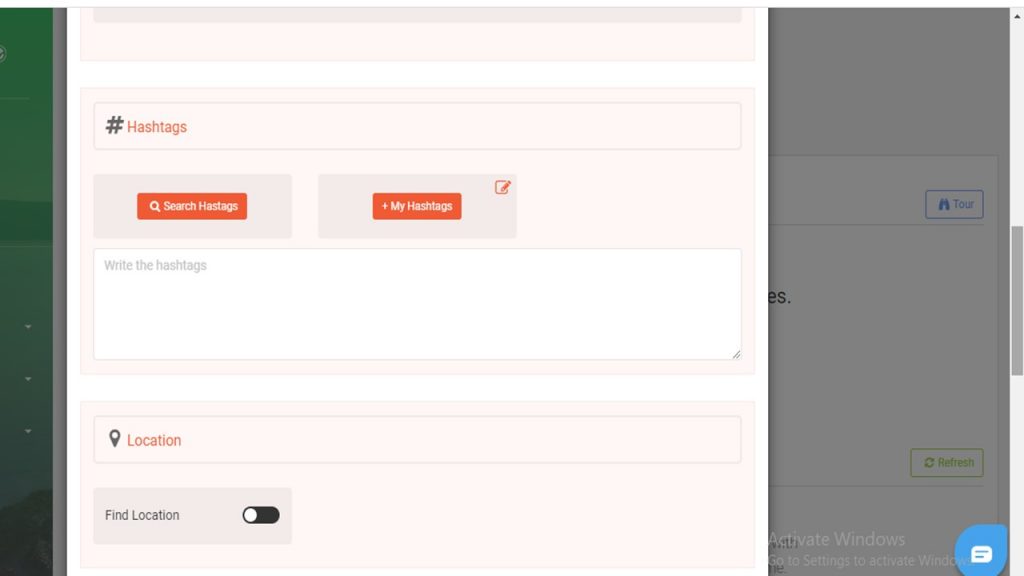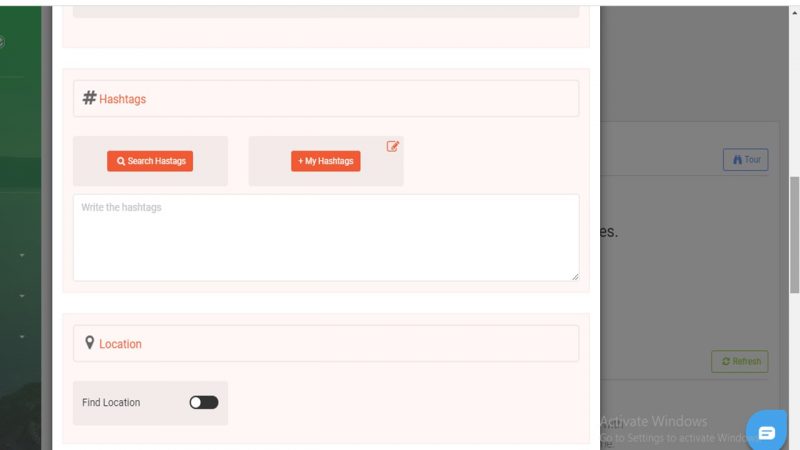 Here is where you can set the time if you want to schedule your content in the future although you can choose to post your video instantly.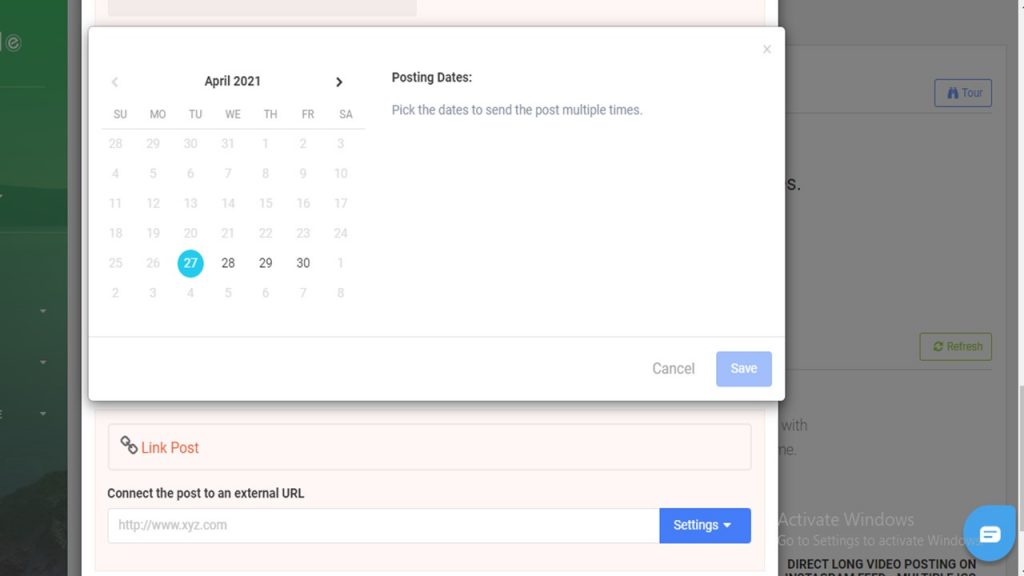 On top of that, if you want to delete the post you can set the calendar to have it scheduled for a later time.
What's more, AiSchedul provides three cost-effective packages. The first package, which includes practically all of the features listed above, is completely free. However, you will be limited to a certain number of uses of its capabilities. The second package with fewer limitations is $7, and the pro group has no limitations with just 15$ per month. 
2. Hootsuite
Hootsuite, the same as AiSchedul, lets you upload video to Instagram from PC, Hootsuite is a powerful social media scheduler that helps you reach more audiences. It provides detailed analytics across 20 social networks to help you track your brand more effectively.
You can utilize its automated posting feature to schedule social media posts. Hootsuite also allows you to

manage Instagram multiple accounts

. 

You may see all of your messages in a single box. Finally, use "Hootsuite advertisements" to manage your budget and streamline your workflow. 

Although it is not cost-effective, the first package of Hootsuite, which covers one user, costs €39 per month, €109 for 3 users, and €599 for 5+ users.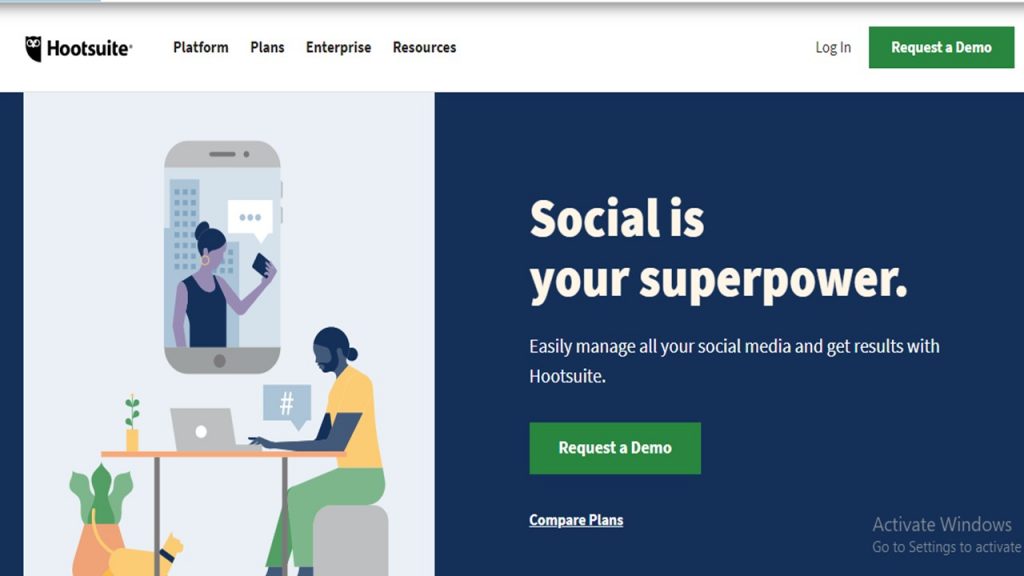 3. Buffer
Buffer is a social media scheduler with a lot of ability for organic growth. Buffer, which is trusted by brands, corporations, agencies, and creators, has assisted its users in publishing, responding, and analyzing in conjunction with various social media networks.
When it comes to scheduling social media postings, Buffer makes a lot of things much easier. Here are some of the things you can accomplish with Buffer.

Plan, collaborate, and produce content that

increases brand engagement

and accelerates growth.

Analytic tools can provide you with in-depth insights to help you grow your business on social media.

Keep track of all of your comments and conversations.
Aside from the free plan, which comes with a slew of limitations, Buffer offers monthly payment plans with monthly payments of $15, $65, and $99.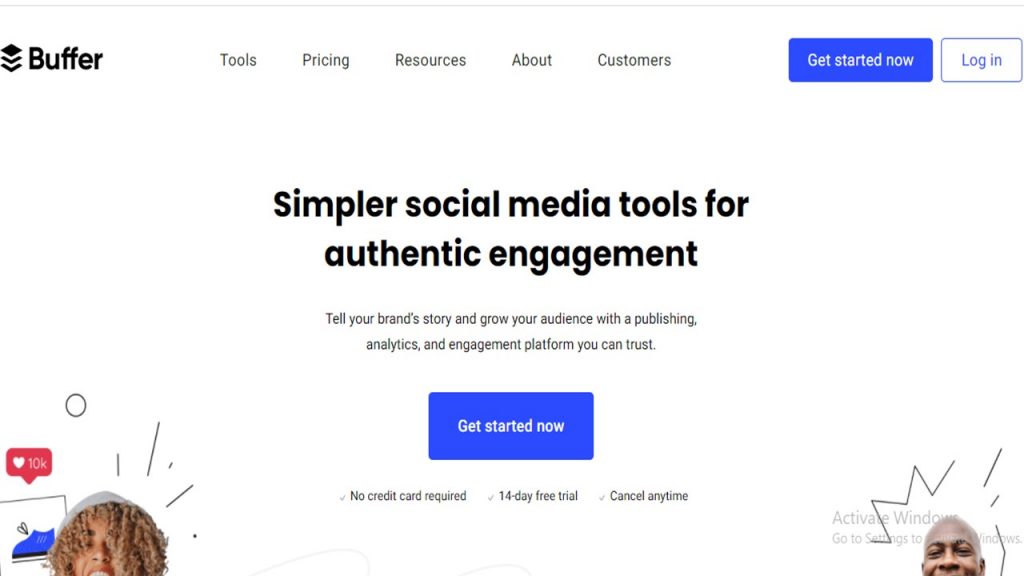 4. Falcon
Overall, Falcon, as one of the top social media scheduling tools, provides a deep structure for listening, engaging, measuring, scheduling, and publishing articles with unique quality material on Instagram. 
Falcon has effective strategies to schedule social media posts alongside other features that increase your performance for tiny businesses and single users to multiple teams with large markets. The following is a list of the features that this software provides.

All of your social media posts and campaigns may be scheduled, edited, prereviewed, and published across an unlimited number of channels.

Run successful social ad campaigns.

To save time and maintain your content on-brand, use a common content library.
After 14 days of free use, you must purchase one of Falcon's two packages. The basic plan is $108 per month; however, the "Full Suit" package is negotiable and does not make a fixed offer.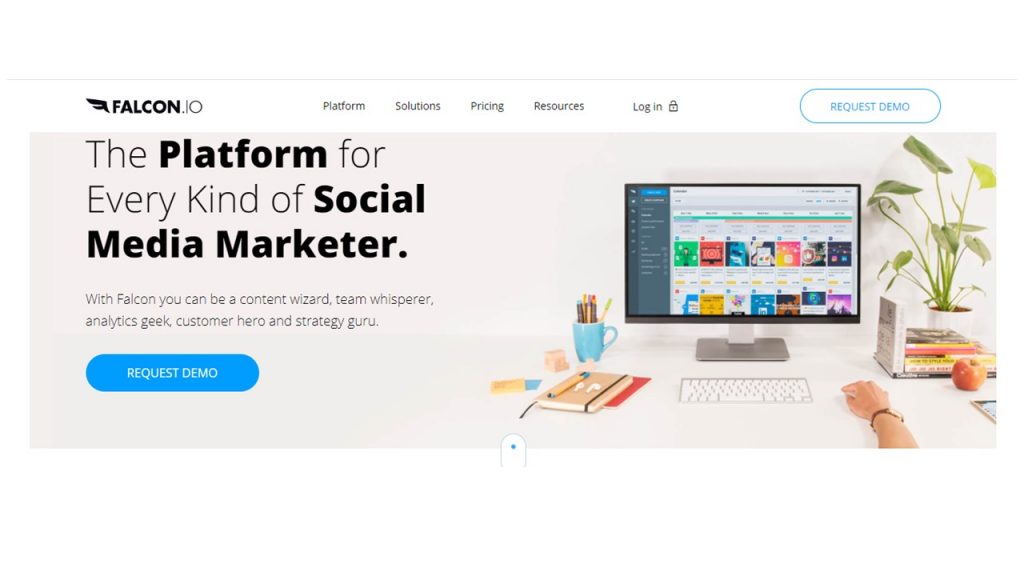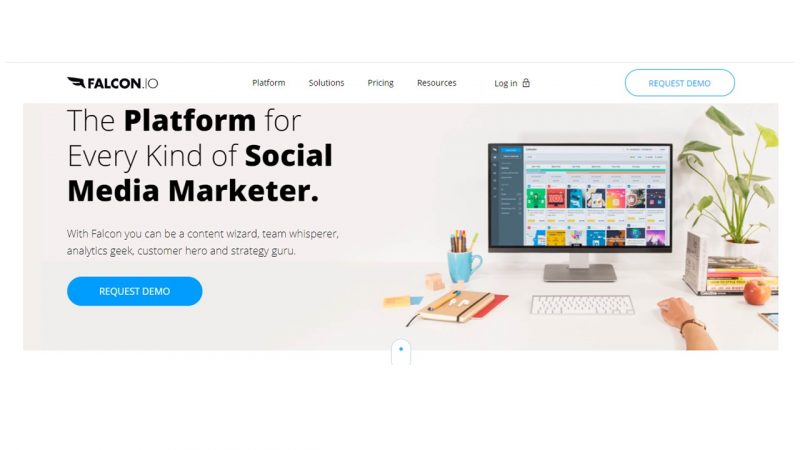 5. Sprout Social
Another popular social media post scheduler on our list is Sprout Social. It has the majority of the elements you'll need for a successful social media schedule. You may, for example, prepare and publish your content automatically, use its analytics tools to boost your reach and impressions, and get a deeper understanding of your audience to increase interaction.
In one smart box, you can monitor and respond to all your communications from Facebook, Twitter, Instagram, and LinkedIn.

Check your company's reviews on Facebook, Google My Business, and TripAdvisor in one place.

As a group, create social content and campaigns.
You can purchase one of three packages from Sprout Social. Keep in mind, however, that each bundle is paid for on a monthly basis per user.
The following are the packages:
Standard prices range from $89 to $99

$149 – $169 for professionals

$249 – $279 for advanced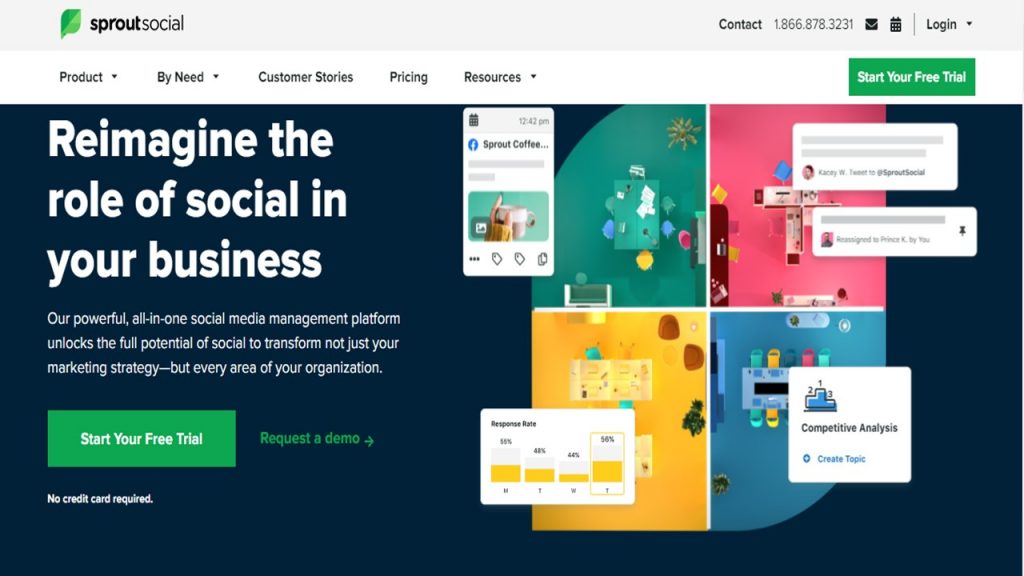 Conclusion
Having so many professional users, Instagram has become a place to advertise, work and get consumers. So many video editors and companies need to share well-edited videos of high quality. Hence, they may want to upload videos to Instagram from PC. 
AiSchedul is a fast and user-friendly app that gives you the ability to manage your Instagram account by your pc and lets you upload videos by a simple drag and drop. So, create a free account right now and enjoy all the amazing features you will find on the website.